Regular price
Sale price
£2.99 GBP
Unit price
per
Sale
Sold out
A mix of 17 carefully selected species of native wildflowers, farmland crops and 'super pollinators' to create a natural habitat and food source for pollinating insects, birds and small mammals.  Gives a long lasting, colourful display from May to October of nectar rich plants, followed by abundant seedheads and foliage to sustain wildlife all year round.
Suitable for all standard soil types and can be sown onto bare soil (2g/sqm) or into existing grass (1g/sqm).
RHS Plants for Pollinators. 
The RHS Plants for Pollinators mark is only given to plants that support pollinating insects. Find out more at rhs.org.uk/plantsforpollinators
Species*:
Camelina sativa - Gold of Pleasure
Leucanthemum vulgare - Ox Eye Daisy
Silene latifolia - White Campion
Agrimonia eupatoria - Common Agrimony
Anthemis arvensis - Corn Chamomile
Agrostemma githago - Corn Cockle
Centaurea cyanus - Cornflower
Chrysanthemum segetum - Corn Marigold
Borago officinalis - Borage
Facopyrum esculentum - Buckwheat
Vicia sativa - Vetch
Helianthus annus - Dwarf Sunflower
Meliotus officinalis - Yellow Blossom Clover
Trifolium pratense - Red Clover
Trifolium incarnata - Crimson Clover
Lotus corniculatus - Birds Foot Trefoil
Achillea millefolium - Yarrow
 *  Species subject to change according to availability 

---
GROWING GUIDE
Sow in autumn or early spring at a rate of 2g/m2 on bare soil or 1g/m2 on grass.

Prepare the ground
Bare soil:
• Clear all plant matter by digging and/or using organic weedkiller
• Rake soil to a fine texture and firm down
• Leave for a few weeks and remove any new weed seedlings
Existing grass:
• Mow grass very short
• Remove perennial weeds
• Thin grass and create some bare patches/strips by raking or with organic weedkiller

Sowing
• Seed can be mixed with dry sand or compost to make it easier to sow evenly
• Roll or tread by foot to press seeds into the soil
• In very dry weather, water the area with a fine spray

Maintenance
• Remove any obvious weeds as they appear
• Keep area well watered in dry weather
• Leave plant matter in the ground over winter as shelter for hibernating wildlife and to provide material for nesting birds in spring. Tidy the area in late spring when new plants have emerged. 
---
View full details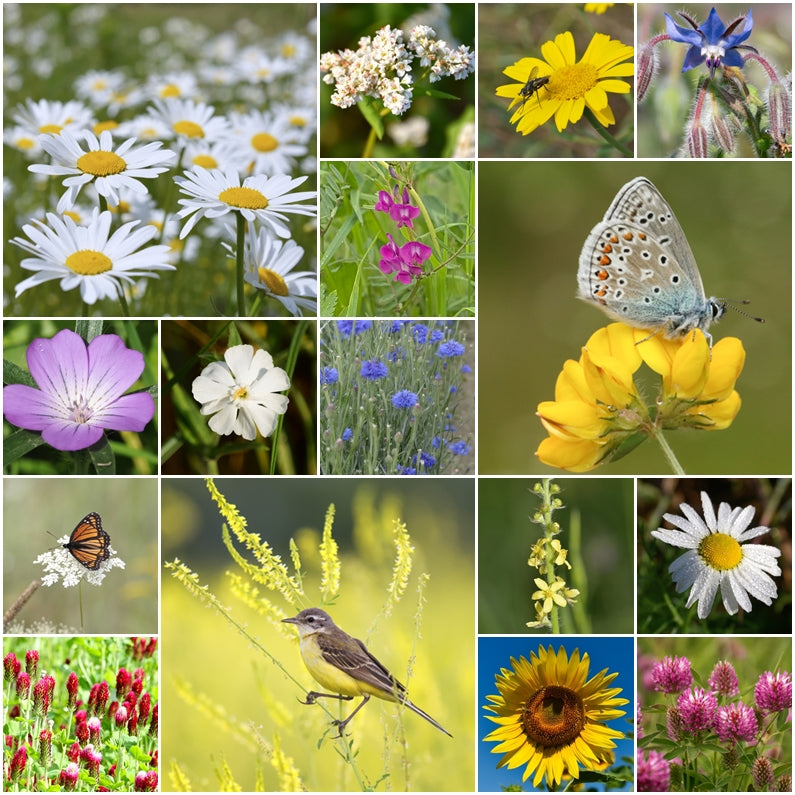 Collapsible content
Delivery

  

We offer prompt order dispatch within 1-2 working days by Royal Mail.  Delivery time will normally be within 2-3 days but may vary due to the current situation.

 

Shipping is only £1.99 and FREE on orders over £30

Due to phytosanitary regulations we are unable to send seeds outside the UK.  If a mail forwarding service in the UK is used to send your order abroad, please be aware that we will not take responsibility for orders confiscated by customs.

          

 

If an order is returned to us as undelivered by the postal service, we will refund the cost of the products purchased, not the delivery charge. When a service other than standard delivery is used, we will also deduct this from the refund (eg. signed for, special delivery or courier charges).  It is the customer's responsibility to ensure the delivery address on the order is correct. 

Please report any orders delivered damaged or incorrect, and any missing orders not delivered within 14 days of the order date by emailing us:  sales@rpseeds.co.uk.

 

 
Packaging

All our seed packaging and most of our postal packaging is paper based and can be recycled.
More Information

Store seeds in a cool, dry place.